Moving the Mountain: "A real life story more intriguing than a novel"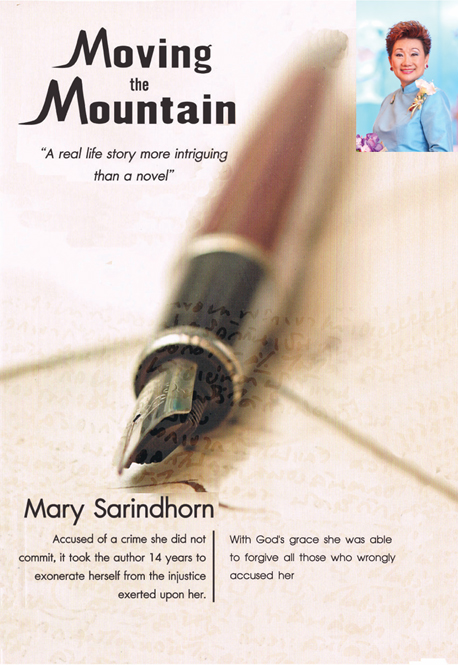 In July, 2008, Nelson Mandela, the 1 st colored President of South Africa, who was acclaimed as one of the world's greatest statesmen was celebrating his 90 th birthday. The Time magazine published an elaborate article on his life story, and summarized Mr. Mandela's life with two sentences which impressed me greatly.
"The key to Mandela is those prison years. He went in emotional and headstrong and emerged balanced and disciplined."
If someone were to ask me to describe my coming out of the life jungle in one sentence at the age of 51, how would I answer? I would reply in this simple sentence,
"I came out happy!"
How?
This was the reason I decided to write this book.
A life experience of being accused of a crime I did not commit, able to exonerate myself miraculously after 14 years, discovered God along the way, forgave all those who maliciously wronged me, and finally able to recuperate financially should not be a life story wasted idly. I decided to turn all my sufferings to something meaningful and useful. Hence this book was first written in Thai in 2009 as a gift to the guests attending my 60 th birthday celebration in March that year. The purpose of writing this book is to glorify God and be a witness that God is real and merciful, and that God is Love.
Since then I never looked back. I was invited to appear on one of Thailand's most popular TV Talk Show, JohJai, which was watched by almost 10% of Thailand population. I have also been invited to speak at various religious Conferences and Apostolic Congress on Mercy around the world as well as at various dioceses in Thailand. With request from the foreign audiences I decided to write my book in English titled 'Moving the Mountain' by Mary Sarindhorn, and first published it as an e-book on amazon.com. Still people who listened to my testimony wanted to read my book in hard copy. Finally I donated the copyright and all proceeds from the sale of my book in English to the Diocese of Bacolod, the Philippines. Proceeds from the sale of my e-book are also donated to charitable causes in January, 2017.
At the age of 70 this is how I'll introduce myself if asked nowadays, "I am a faithful servant of God, a happy mother and grandmother, and a businesswoman, in that order." I still write. My bi-weekly article in Thai is called 'My Little Prayers'. It is sent to thousands of readers by emails as well as ordinary mail. It is also published in 'www.thaicatholicbible.com'. I paint too. One can browse through this same website and look for the column 'Art for God'.
If one's heart is overflowed with God's love and blessing, you can't keep it for yourself. It will spill over. This is what I am doing—sharing God's loveand blessing with all those who read this website.
May God bless you all !
– Mary Sarindhorn Mativachranon